Best Business Grants for Women Entrepreneurs
Women are taking up the business challenge like never before. A study from insurance company Hiscox USA shows that over the past 15 years, the number of small- to medium-sized businesses owned by women grew 1.5 times more than the national average for all businesses. Today, there are more than 11 million business firms owned by women. 
Women still have a harder time securing business financing than men, though. Reasons range from having a lower appetite for risk to outright gender bias. 
The following small business grants for women are a valuable way for many female entrepreneurs to get the financial kickstart they need. Here are 8 of the best business grants open to women business owners.
Community-Focused Business Grants
Starting a nonprofit company or one that's focused on community-based activities is often a worthy cause. That said, it might not be the most popular investment opportunity for a profit-oriented bank. 
However, some organizations have recognized this gap and made provisions. Here are some of the best grant options available in the nonprofit and community sector.
1. The Eileen Fisher Women-Owned Business Grant Program
Established in 2004, women's clothing and accessories brand Eileen Fisher helps female-owned companies expand their businesses. The grants are awarded specifically for increasing the role of women in environmental and economic sustainability. 
To be eligible, your business must have been in operation for at least a year, have a 501(c)(3) status and provide direct services. Otherwise, eligible organizations without a 501(c)(3) status may apply provided they have a fiscal sponsor and 1 year's worth of the organization's financials. 
An applicant's business must do one of the following for women and girls, when applicable:
Increase their participation in decision making

Offer them training in climate change advocacy, mitigation and adaptation

Create opportunities for them to pursue livelihoods while becoming leaders in environmental solutions
In 2017, Bee Downtown founder, Leigh-Kathryn Bonner, was a recipient of the Eileen Fisher grant. As a 4th-generation beekeeper, Bonner works with local businesses to provide rooftop beehives in the area, supporting pollination and encouraging a thriving ecosystem. 
A total of $200,000 is awarded annually, with individual grants ranging from $10,000-$40,000.
Review the requirements for these business grants for women and submit your application online.
Creative Business Grants
Creativity is the lifeblood of innovation. However, while many organizations recognize the latter, only a few are prepared to fund the former. Two organizations that provide funding for women in creative industries are Halstead Beads and Idea Cafe.
2. Halstead Grant
This is another grant aimed at encouraging exceptional creative talent, specifically in the field of jewelry design. Since 2006, the program has awarded $7,500 in cash and $1,000 in merchandise each year to a new designer who works mainly in silver.
The application process includes submitting binders with extensive written information as well as portfolio photos. The panel of judges reviews and scores applications for a month, then spends a week deliberating to choose the final winner. 
If you're interested in applying for this grant, you have until Aug. 1 each year to submit your entry.
3. Idea Café Grant
Since 2001, Idea Café has been granting funds to small business owners. Grants of $1,000 each are awarded to business owners with creative solutions to everyday problems. 
While this program isn't exclusively for women, it is very female-friendly. In fact, the last 6 grants have gone to women entrepreneurs. 
Grant funds are intended to fuel ideas and projects in line with the company's goal to promote positive social and environmental changes in the world.
Recent grantees have included Mew Haven Cat Café in New Haven, Connecticut, and Flour & Salt Bakery in Hamilton, New York. 
Applications are open to all Idea Café members, and there's no entry fee, purchase or complex business plan submission requirements.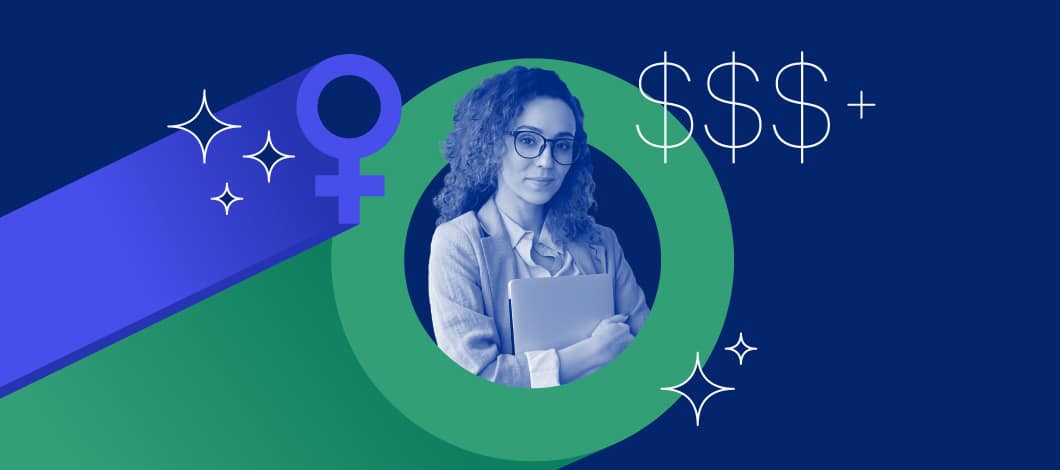 Other Business Grants for Women
Of course, if you aren't eligible for one of the creative or community-focused small business grants for women-owned businesses listed above, you can always apply for another business grant open to female entrepreneurs or apply for a small business loan.
4. FedEx Small Business Grant
While the FedEx Small Business Grant isn't specifically earmarked for women, it's distributed between male and female business owners. 
You'll have to be in operation with sales for more than 6 months and have fewer than 99 employees. Franchise owners, direct sellers and nonprofits aren't eligible.
To apply, you'll need to complete the entry form, compile a business story and plan and provide details of what you would do with the grant funds. 
In 2020, more than $250,000 was awarded to 12 U.S. businesses.
5. Amber Business Grants
The Amber Grant was started in 1998 by the WomensNet organization. The program was created in honor of Amber Wigdahl, who died at 19 before achieving her dreams to become an entrepreneur. 
Veteran and startup business grants are available to companies that are at least 50% owned by women. Nonprofits are also eligible. 
Monthly grant winners get $10,000 each and are automatically eligible for the $25,000 year-end grant, which is determined by public voting. 
This is one of the few grants for new women-owned businesses, open to Canadian and U.S. businesses. 
Apply for an Amber business grant by explaining your business idea or describing your existing business and detailing what you would do with the funds. There's a $15 fee to apply. 
6. Cartier Women's Initiative Awards
For businesses that want to play in the "bigger" leagues, the Cartier Women's Initiative offers funding to women business owners and leaders. For the 2021 award year, 21 awards will be granted at 7 regional levels in addition to 3 Science & Technology Pioneer awards.
Winners also get personalized business coaching and media exposure as well as mentoring, training and peer coaching sessions. Former winners include EzyGain and Siren.
Applicants must be in ownership of a registered business that has been in operation for 1 year to 5 years. Additionally, the business must aim to grow significantly in the coming year and meet one of the United Nations' social, environmental or economic sustainability goals. 
Applications are only accepted via the Cartier Women's Initiative online portal. The call for 2021 applications is now closed. And while the program is run annually, due to a fellows reunion in 2022, the next call for applications will not begin until the spring of 2022. 
Additional details about the application process and required documents can be found on Cartier Women's Initiative website.
7. IFundWomen 
 IFundWomen (IFW)'s crowdfunding platform is dedicated to helping female entrepreneurs succeed. The fundraising site features tutorials explaining the basics of pitching a business idea and meeting fundraising goals on the platform. One IFW grantor alone awarded $10,000 to each of 25 women-owned companies. 
Also, the organization has secured more than $6 million in corporate grants but has only disbursed approximately 15% of that amount. In an effort to put this money in the hands of hardworking female entrepreneurs, they've created a universal grant application program. This program is in addition to other grant opportunities available, such as the most recent Gusto 2021 Jumpstart Grant Program, which accepted applications through the end of 2020 and awarded 4 $2,500 grants. 
8. New Voices
This nonprofit organization, dedicated to supporting women entrepreneurs of color, has hosted 9 business pitch competitions to date. Each New Voices competition awards a total of $100,000 in cash as well as supportive services, including skills development, mentoring and coaching. Individual prizes range from $5,000 to $25,000. 
Additional Funding Resources and Business Grants for Women
If none of the listed grants is right for your business, visit GrantsforWomen.org for a number of other smaller funding options. Don't forget to explore federal business grants for women as well as state-level opportunities.
If your business is in its early stages, consider looking for an angel investor or investment company, such as 37 Angels and Belle Capital. Alternatively, consider applying for business financing. 
Tracey Stepanchuk
Contributing Writer at Fast Capital 360
Tracey Stepanchuk is a content creator focusing on financial management for small to medium-sized businesses. A former entrepreneur and business executive, she brings 20 years' experience in management and technology to Fast Capital 360.